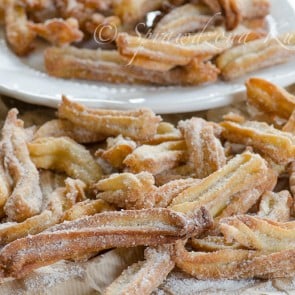 Churros with gingerbread spice
Churros are one of the most popular breakfast snacks in Spain. Today I propose to spice gingerbread, but you can give sprinkled with icing sugar. Seasoned that taste as if they were a mixture of pumpkin. Great fit for hot chocolate, Coffee or Tea. Some countries are fed melted cheese.
Churros with gingerbread spice
Ingredients
1 a drink
60 g of butter
pinch of salt
1 tsp spices for gingerbread
210 g flour
2 eggs
½ teaspoon vanilla extract
For obtoczenie and frying
oil for frying
½ a good cup of sugar
1 - 2 gingerbread spice spoon
Instructions
In a saucepan melt butter, add water, salt
Then sprinkle the flour and spice to gingerbread, whole mix quite extensively, until a thick glossy mass
Remove from heat and stir for another two minutes
Allow to cool
When the weight is still warm add eggs and vanilla, mix thoroughly
In a saucepan, heat the oil
For szprycy confectionery equipped with a tip in the form of stars or foil pouch fill weight
In hot oil, squeeze the dough with a knife or your finger cut off
Fry for about 1 minutes on each side
Fried brush to remove the paper towel to ociekł of excess fat
For mixed dishes sugar and spice to gingerbread, coat each side
Enjoy!