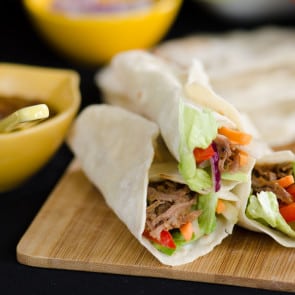 Mini duck wrapped in tortillas
Duck wrapped in a mini tortillas, the perfect dish for adoption. Guests choose their own favorite Accessories and curl a delicious mini tortillas. The meat is perfectly tender and juicy, a hoisin sauce makes allowance, that duck acquires an excellent taste. I recommend homemade sauce, is much better than the one from the store. Sos in the dish is important, its nutty flavor note underlines the fantastic duck. Prepare all food is not complicated, everything can be prepared in advance, and when guests come we do not have to spend time in the kitchen pichceniu. Delicious, Exotic and unique dish, bon appetit!
Duck
wrapped in a mini tortillas
Ingredients
2 duck breast with skin
salt
2 tablespoons dried marjoram
Ingredients for hoisin sauce
5 tablespoons of soy sauce
2 bucket of water
3 heaped tablespoons of peanut butter
1 clove of garlic
2 teaspoon sesame oil
2 tablespoons of sugar cane
freshly ground pepper
pinch of chilli
Ingredients for the mini tortillas
100 g of wheat flour
2 tablespoons butter
about 80 ml of very hot water
Additionally
red pepper
carrots
lettuce
avocado
cucumber
cebulka
Instructions
Sos hoisin
Pour into a bowl with soy sauce, squeezed garlic and other ingredients, all thoroughly
Duck
Wash the duck breast and pat dry with a paper towel
Rub the breast of each salt, pepper and marjoram
Preheat the oven to temperature 180 st C
At the bottom of a casserole dish put the box, If you do not have this, you can put a cap on the jar, and put them prepared breast
Cover the dish with aluminum foil lid or, insert into preheated oven, bake for 1 time and 30 minutes, After this time remove the cap, Pour melted fat, and bake for another 15 - 20 minutes, for browning the skin
Remove the breasts from the oven baked, Leave to cool
Still warm breast to grab your hands on the tiny pieces, pour 2 - 3 tablespoons hoisin sauce, mix
Mini tortillas
In a bowl add flour, soft butter, gradually add hot water, stir with a fork, and then knead the dough by hand
Put dough around 20 minutes, Cover with a damp cloth
Put the dough on cutting board, back to form, and thin shape of the shaft
Roll and cut into pieces 15 - 18 pieces
Roll out each piece very thinly, sprinkle with flour pastry board
Bake pancakes on a hot dry pan around 2 minutes on each side
Baked cakes after baking store in a sealed container until you submit, You can reheat before serving them on the hand or in the microwave
Serving
Applied to the heated pancakes favorite vegetables, portion of meat and a little sauce
Enjoy!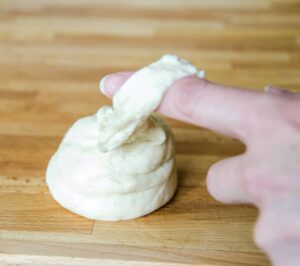 The photo shows the consistency cake mini tortillas, the dough is very flexible and soft!
The issue I was inspired by Taste:)