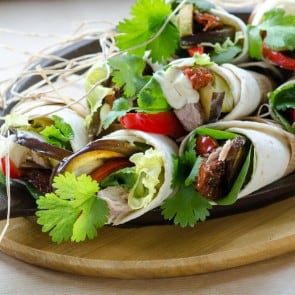 Tortilla wrap with tuna, grilled eggplant
Tortilla wrap with tuna, grilled eggplant, avocado and sun-dried tomatoes. Excellent for breakfast, dinner, dinner or a party at home, or picnic on the grass. Tortillas in a form you can take to work for lunch or school. You can prepare them in a meatless version, today such as those, but with roasted meat will be an interesting variation on the culinary. You can make them in larger quantities and store in the fridge wrapped in cling film to two days. Serve cold course!
Tortilla wrap with tuna, grilled eggplant
Instructions
If you use homemade tortillas proposes after baking them wrapped in a damp cloth, to soften, You can also warm them in the microwave
Eggplant should be cut into slices, sprinkle with salt, spread with olive oil on both sides, best barbecue on grill pan
After baking, cut in half, place on paper towel to get rid of excess juice.
Arrange cake on the counter or cutting board, We put grease torn lettuce mayonnaise, pieces of tuna, onion cut into thin pen, pieces of sun-dried tomatoes, eggplant halves
Sprinkle with freshly ground pepper, sprinkle with green coriander leaves
Rolled up, cut in half, arrange on a plate on one another, You can wrap the bottom of the paper
Enjoy!