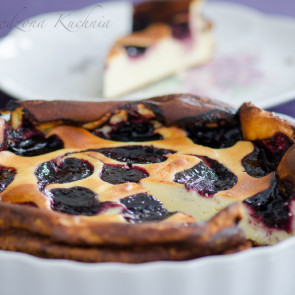 Cheesecake with blackcurrant
Again cheesecake

This is one of the most popular desserts for my family and, therefore, a frequent guest at our table and, was not to invent something still monotonously. I wanted a bit of variety to the taste of the cheese so I added weight jam Blackcurrant, slightly acidic taste of the amazing esencjonalnym, which has only black currant. The best, of course, is the home-made, but the quality of the store will be a great. Try!
Cheesecake with blackcurrant
Ingredients
600 g minced curd cream three times
250 g mascarpone
5 tablespoons granulated sugar
4 eggs
1 tablespoon of potato flour
2 tablespoons of flour
small jar of blackcurrant jam
Instructions
Separate protein from yolks
Beat down protein stiff
In mixer bowl, place the egg yolks, add sugar and beat until combined
Then add the curd, mascarpone cheese and flour
All carefully, but briefly mix until smooth
To add beaten curd protein, Stir gently with a spatula
The mass transfer to a baking pan
Jam stir, and then put a spoonful of jam on top of the cheesecake
Put into the oven preheated to a temperature 160 st C
Bake for about 50 minutes, remember cheesecake with aluminum foil covering, when it starts to take ruddy color ( I missed the moment :)
When you turn off the oven, set aside to cool around the door so 10 minutes, and then remove to cool on a wire rack ( but not in the form wyjmujcie )
Can be administered with an additional portion of jam
Enjoy!
Notes
The lower "shelf" I propose to put in an ovenproof dish boiling water, and put it on a baking cheesecake. Thanks to bake with "pair" cheesecake will be nicer and equal to the piekł, Also avoid cracks on the surface.