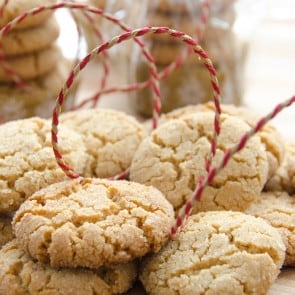 A peanut butter cookies
Who likes peanuts, butter orzechowe i nie jest na nie uczulony, can go ahead and cook a double portion. The taste is surprising, sweetness mixed with the salty – a hint of hazelnut, as for me and my household, pride! Cookies immediately after baking are very fragile, if they were made of sand, So before we enjoy the taste we have to let them cool down. Instant execution, while waiting for przestygnięcie, Only then crunching, crunching… I highly recommend, such cookies can give to our loved ones!
A peanut butter cookies
Ingredients
130 g of butter
230 g of sugar
220 g maki
1 teaspoon baking soda
1 egg
1 peanut butter cup ( I gave the pieces of nuts )
1 teaspoon vanilla extract
⅓ cup of sugar cookies to rounding
Instructions
Then add the egg and vanilla essence, mix
Add sieved flour with baking soda, mix
Sheet with parchment paper for baking
Pour into a bowl sugar
The cake form balls of about 18 g and coat them in sugar
Then, put on a baking tray, gently flatten
Preheat the oven to 180 st C
Cookies bake for about 12 minutes ( be careful to not przypaliły, baked without convection )
After baking, the cakes gently move the paper around the box and allow to cool
Enjoy!
I found the recipe here