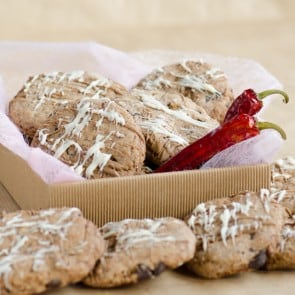 Chocolate cookies with chilli
Chocolate cookies with chilli taste better from the best – cafe:) Cookies the category of heavy and filling cakes. Exceptional thanks to dark chocolate and powdered chilli. Chilli gently emphasizes the taste of dark chocolate and it fits perfectly. Cookies such a fantastic warm and give a boost of energy. I recommend strongly!
Ingredients
100 g of butter at room temperature
200 g caster sugar cane
2 Medium eggs at room temperature
285 g of wheat flour
1 teaspoon of baking powder
½ teaspoon salt
½ teaspoon of chilli powder
200 g quality dark chocolate
In addition to the decoration
Instructions
Put all the ingredients in a bowl and knead the dough
Roll out to a thickness of about cake 5 mm
Cut out cake Discs with a diameter of about cm
Sheet with parchment paper to roast, place on the cake
Preheat the oven to temperature 190 st C
Cakes bake 12 - 15 minutes
After baking, the cakes cool on a wire rack
Hot chocolate in a water bath or in the microwave
Fork dip in melted chocolate and doing vigorous movements on the cake, decorate cakes
Enjoy!
Notes
Amount chilli, I gave (1/2 spoon) a portion of the minimum and very lightly felt in cookies. I would recommend to add a little more to the taste was more intense. The option for the hardcore assumed when decorating cookies molten chocolate sprinkle of chili flakes dried further.