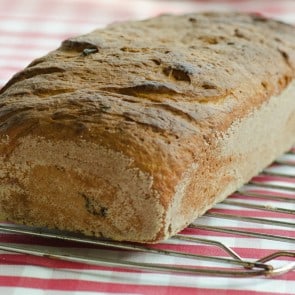 Soft bread with dill and ricotta
Soft bread with dill and ricotta, This is another option for those who like homemade pastries, but without much effort. Preparation of bread comes to mixing
all ingredients and bake. Do not require grout, rising throughout the night, etc.. Just put all the ingredients into a mixer or bread machine, form, wait, it grow and bake. The bread is frozen and thus, that it has in its composition of cheese ricotta is wet. You can bake it without dill if you do not like but you can add other favorite vegetables or omitted altogether. I encourage you to try!
Soft bread with dill and ricotta
Number of servings:
1 big
Ingredients
500 g of wheat flour
1½ teaspoon salt
120 ml of water
100 g of butter
1 and ½ teaspoon instant yeast or 20 g fresh + teaspoon of sugar
250 g ricotta
1 large egg
1 tablespoon chopped fresh dill
25 g of sugar
Instructions
If you use fresh yeast, to put them into a bowl, add 1 bucket of water and a teaspoon of sugar, Stir and let stand for about 15 minutes to have begun work,
Flour, sugar, salt, cheese and yeast leaven (outside dill) put in the mixer bowl, mixes by adding soft butter, egg and water. If you use dry yeast, mix it with the flour. Active knead about 5 minutes, until, until the dough begins to stand out from the bowl (Hand). Then add the Dill Knead the dough and the 1 just a minute, to nicely distributed through the dough
Translate into a greased cake pan with oil, cover with plastic wrap and leave at about 1 time, to rise
When dough translate into a greased before baking pan ( one large or two small ) top of the bread, sprayed with oil and leave to rise again, about 30 minutes
Preheat the oven to temperature 200 ° C, before placing the bread can be cut along
At the bottom of the oven spill ½ cup of ice or well water spray inside the oven with washer.
Bake bread 35 - 40 minutes, after baking, cool on a wire rack.
Enjoy!