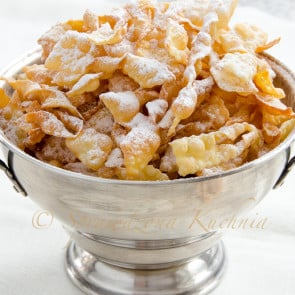 Angel Wings
Angel Wings, after mini donuts and cheese donuts, is another hint for Carnival. Angel Wings, otherwise known as crispy, a very thin crust "plastered" with air bubbles ,, which are formed during the cooking. Very crunchy with lots of icing sugar, simply delicious! The provision is not complicated, However, the most important issue is the thickness of the cake, should be rolled out very thin, Angel Wings will be very gentle then. I recommend!
Angel Wings
Ingredients
220 g of wheat flour + to the rolling podsypania
2 heaped tablespoons of butter, at room temperature
2 tablespoons sour thick cream
½ tablespoons of vinegar
1 small egg
2 yolk
pinch of salt
1 tablespoon of caster sugar + the imposition faworków
about 0,7 liters of oil for frying
Instructions
Egg and egg yolk in a bowl mixer drive, add sugar powder, mix by 5 minutes at high speed to a thick creamy egg
Then add the remaining ingredients, Knead the dough and set aside for a few minutes
The dough "spank" roller and roll, on the square, folded in half so, that "take" into the air as much as possible, Repeat
Cut off a piece of cake and counter sprinkled with flour, roll out very thin cake!
Then, using a knife cut knurl or strips with a width of about 2 cm, in terms of the length of the 10 - 12 cm, but leave it to individual preference dimensions:)
In the middle of each strip to make an incision and scroll one part cake through the hole, Faworki put on a floured countertop
Heat the oil in a large skillet or saucepan to 180 st C
Faworki fry a few pieces at the same time, about 20 seconds on each side
Remember, not to scorch faworków too much! should be honey - rally
Baked lecture on paper towel, to ociekły from fat
Sprinkle with sugar when cool down pudem
Enjoy!