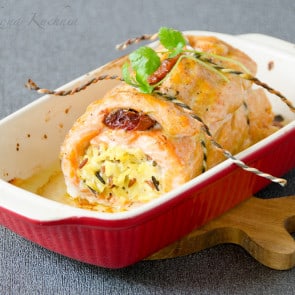 Salmon Roulade
Fantastic salmon roulade stuffed with rice, with the addition of soft goat cheese and sun-dried tomatoes. Free danie, You have successfully prepare for the most exquisite party or, just for Tuesday, or Monday dinner. Last year I gave a party roulade Communion and I have to say, the guests were delighted. It is necessary to tie the roulade, that it does not fall apart, you can do, This plain cotton twine, silicon ribbons or twine paper. You can wrap a thin roulade, skinny slices of smoked bacon, and only, then a whole string tie. Just wrapped bacon rolls, Italian food is a delicacy and there I took inspiration. Be sure to try, simple, while a gourmet meal, served with delicious broccolis in butter…delicious.
Salmon Roulade
Number of servings:
2 - 4
Ingredients
470 g fillet of salmon
40 g of rice "color" ( weight before cooking )
pinch of turmeric
2 teaspoon freshly grated lemon zest
salt
handful of fresh coriander
50 g soft goat cheese
4 dried tomato halves
Sos
1 tablespoon mustard
2 tablespoons of honey
Instructions
Wash salmon, dry with a paper towel
Cut the thickest part of the fillet ( horizontally ) so as to produce "pouch" remember not to cut through to the end
Sprinkle with salt and pepper, Rub lemon peel, so you can leave prepared fillet tightly wrapped in the refrigerator overnight or cook immediately
Cook rice until tender with a little turmeric and salt
Strain
In a bowl, mix honey with mustard
Preheat the oven to temperature 170 st C
Rice season well with salt and feathers, add goat cheese and a handful of chopped coriander, mix thoroughly
Spread the flute salmon
The agent put the rice stuffing, firmly kneading ( sticky rice nicely ) Now wrap one side of the salmon, placed on top of dried tomato halves and then cover with another panel on fish, tightly roll
At the bottom of the plant the 2 or 3 strings evenly distributed, tie them on top
Roulade translate into a casserole dish, gently cover with aluminum foil ( not too tightly ) put in the oven
Bake for 20 - 25 minutes, after this time, remove the foil and brush with sauce and roulade part of pique yet 5 - 7 minutes
Serve hot with sauce will work out
Enjoy!
Notes
The proportions are a tiny portion of:)