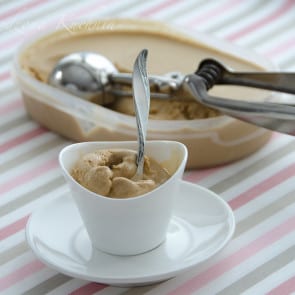 Caffe Latte ice cream
Ice cream, when the mountain snow outside the window? Why not! Fantastic, I guess simply said, They are excellent and although the minimum number of components is a success brick. Creamy velvety texture can be achieved by the addition of alcohol, which makes, that the ice cream does not freeze during cooling to "bone". Homemade ice cream scoop is perfect caffe latte to, to make Affogato coffee, and with such ice will, the best coffee in the world.
Caffe Latte ice cream
Ingredients
300 g sweetened condensed milk
500 ml cream 30 %
3 tablespoons instant coffee
2 tablespoons hot water
3 tablespoons coffee liqueur or other alcohol
Instructions
To the mixer bowl and begin to pour the cream on medium speed beat
When the cream begins to make a fluffy add a can of milk and continue to beat
Coffee is dissolved in hot water and add the whisked weight
The whole beat around 5 minutes
Pour the mass of plastic sealed containers
Put in the freezer preferably overnight
Enjoy!
Inspiration comes from Nigella.