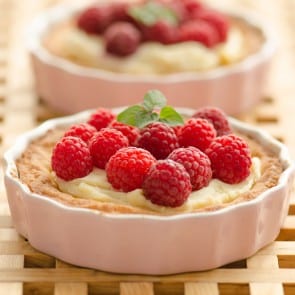 Tartlets with raspberries and mascarpone
Tartlets with Raspberries on a crispy shortcrust pastry, filled double vanilla mascarpone decorated with mouth-watering fresh and juicy raspberries. Super dessert, that we can prepare a rapid pace. The dough for tartlets can bake in larger quantities and store in the freezer. Today's portion is sufficient to prepared 10 diameter tartaletek 11 cm. Have fun and tasty!
Tartlets with raspberries and mascarpone
Ingredients
Ingredients for the dough:
1 cup of wheat flour
1 cup coarse flour
1 teaspoon of baking powder
½ cup of sugar
1 egg
1 yolk
150 g of butter
1 package of vanilla sugar
1-2 tablespoons cream ( Optional )
Ingredients for the cream:
500 g mascarpone
2 tablespoons vanilla extract
5 tablespoons granulated sugar
Instructions
In a bowl, place the ingredients for the dough, outside cream. Add cream at the end, if the dough needs it or poorly glued, knead and form a compact ball. Wrap the dough in cling film and place in the fridge for at least half an hour.
Serek mascarpone, sugar and vanilla extract ( recipe here ) Briefly mix.
Remove the chilled dough, Roll out to a thin cake circle cut out of the dough, put them on the tartlets mold. Excess cake cut the edges of the molds. Preheat the oven to 200 st C, before placing in the oven ponakłuwać tartaletek fork, bake until golden brown around 12 - 15 minutes.
Baked bottoms cool, then put on any weight tartaletkę cheese, decorate with raspberries. Enjoy!