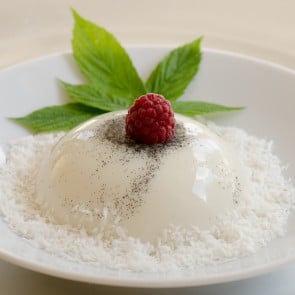 Coconut panna cotta with white chocolate
Panna cotta on coconut milk with white chocolate and vanilla. Panna cotta, znaczy "cooked cream" this is a classic Italian dessert. This is usually a high-calorie creamy dessert based on a thick and heavy cream with the addition of gelatin. This recipe is a version "light", because the base is coconut milk. It is for these, who are on a diet and would like to try something delicious. Milk coconut combined with white chocolate and vanilla is a delight for the palate. Dessert can be specified with various sauces, chocolate, jam, raspberries or other seasonal fruit.
Coconut panna cotta with white chocolate
Ingredients
400 ml coconut milk (82 % coconut content)
40 g of sugar ( I gave fructose)
50 g of white chocolate
1 vanilla pod (the seeds scraped out, do not throw sticks, useful in the vanilla extract, recipe here)
250 ml of milk
4 tablespoons gelatin (I used the, which is dispersed in hot water)
1 tablespoon white rum ( Optional )
Instructions
Pour into a saucepan milk coconut and milk ordinary, add sugar and broken chocolate, stirring occasionally boil, remove from heat
In hot water (3 Bucket) Dissolve gelatin, add it to the prepared mixture, longer to cook!
Pour into the blood, Leave to cool, refrigerate
When solidified panna cotta I can already serve, best to remove it, dipping dish of dessert a few seconds into hot water, Then comes nicely
Serve with fruit or your favorite sauce. Enjoy!